Since it's Christmas time the thought of cookie cutter comes to mind. No I am not eating any of those crazy calories. Pause.... Sorry I had some chocolate morsels on my laptop that I had to wipe off. Don't judge me! Back to the point!
In regards to the cookie cutter I think about goals and dreams. People often tend to say I want to be like him or I want to be like her. That is fine and dandy. We all need that person to ignite a fire within us and to give us a base point of what can...
---
We are all guilty of at one time or another feeling incompetent, unworthy, not enough or just down right insufficient. I used to tell people when I was still running track professionally that the hardest part of my job was competing on a level that a lot of the time I didn't feel that I was even qualified to be on.
How's this?
I may have missed some training due to injuries.
Just not feeling myself on that particular day.
Just not mentally able that...
---
I recall as a child we would go to the kitchen and stand with our backs to the wall for a parent or older sibling to come and place a mark above our heads to track our growth. This was an exciting time for us and we often did it week to week to see how far we had come or grown. 
The good thing about then was we did not really pay attention to our growth on a daily basis. To enhance it just happened naturally. Its not as if we were hanging from the closet door with...
---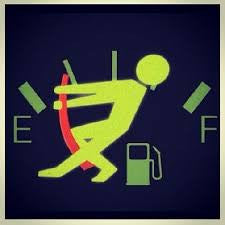 It's funny that we only get gas or seek out gas stations when we need it! Its kind of how we do God. What if our gas tank was set to E every night and we had to fill up every morning. This is how we should feel about Christ everyday. "Seek ye" the first thing in the morning. Not as a convenience. When we seem fit.
Some people even have a Tesla mentality
They can go miles without gas. They have these electric cars to help them avoid gas stations. But they can only go a...
---
I was recently watching a movie on Netflix and thought to myself "What made me choose this movie"? Of course it was the movie rating. This particular movie had 4 stars out of 5. Of course I am going to watch it. Who wouldn't?
This made me think about the world that we live in today. Everything is based off of a rating or judgment system.
Our common rating systems:
How many facebook likes we get
How many followers we have on instagram or twitter
How many people like our business on yelp
How many people we...
---
Choosing a selection results in a full page refresh.
Press the space key then arrow keys to make a selection.