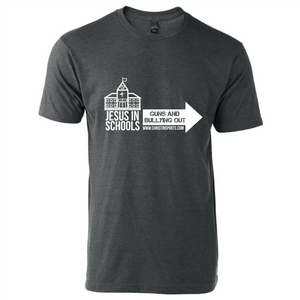 Jesus In School Tee
With so much chaos going on it does not take much to realize that we are no longer on stable, solid ground. Solid foundations just like a home are made from stone. We are not talking about the Rock of Gibraltar which is deemed to be safe and firm. We are talking of something way more powerful. Jesus! He is our foundation. He is our Rock. Let us build on a

ROCK

that will not falter. 
Below are a few versus from the Bible that discuss "

foundations.

"
1 Corinthians 3:11
For no one can lay any foundation other than the one we already have--Jesus Christ
"The Rock! His work is perfect, For all His ways are just; A God of faithfulness and without injustice, Righteous and upright is He.

"O afflicted one, storm-tossed, and not comforted, Behold, I will set your stones in antimony, And your foundations I will lay in sapphires.
Having been built on the foundation of the apostles and prophets, Christ Jesus Himself being the corner stone.