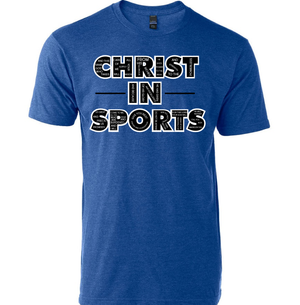 Christ In Sports "Scripture Tee"
This Tee is what Christ in Sports is all about!
Within the wording you will find the following powerful scriptures:
 Philippians 4:19 "And my God will meet all your needs according to the riches of his glory in Christ Jesus."
Isaiah 40:29 "He gives strength to the weary and increases the power of the weak."
2 Peter 1:4 "Through these he has given us his very great and precious promises, so that through them you may participate in the divine nature, having escaped the corruption in the world caused by evil desires."
Matthew 11:28-30 "Come to me, all you who are weary and burdened, and I will give you rest. 29 Take my yoke upon you and learn from me, for I am gentle and humble in heart, and you will find rest for your souls. 30 For my yoke is easy and my burden is light."
Deuteronomy 31:8 "8 The Lord himself goes before you and will be with you; he will never leave you nor forsake you. Do not be afraid; do not be discouraged."
Get yours today and wear with confidence and Godfidence!